Zhongshan is a prefecture-level city in the south of the Pearl River Delta in Guangdong province, China, with a population of over 3 million (2012). Zhongshan is one of a very few cities in China named after a person. It is named after Dr. Sun Yat-sen (1866–1925), who is known in Mandarin as Sun Zhongshan. Zhongshan is located along the west side of the mouth of the Pearl River, directly opposite Shenzhen and Hong Kong. It lies south of Guangzhou and Foshan and north of Zhuhai and Macau. The northern part of Zhongshan, including most of the urbanized area, lies on the alluvial plains of the Pearl River Delta, while the southern part of the city's territory reaches into a range of coastal hills. It enjoys an area of 1783.67 square kilometers. There are more than 800,000 overseas Chinese and compatriots of Hong Kong, Macao and Taiwan from 87 countries and regions.
Economy & City Reputation
Furthermore, Zhongshan has maintained the 5thlargest economic giant for many years. Besides, Zhongshan, Dongguan, Nanhai, and Shunde are dubbed the "Four Little Tigers" in Guangdong. Zhongshan is a national historical and cultural city, whose culture originated from Zhongshan Xiangshan culture is an important source of modern Chinese culture, and it is known as the township of Guangdong Quyi (Cantonese Opera) and an overseas Chinese's township. 
Culture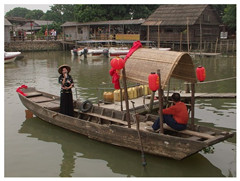 Zhongshan boasts rich folk art, including Zhongshan folk song, dragon and lion and phoenix dancing and so on. Zhongshan is the hometown of folk songs with such popular folk songs as salty water song, Gao Tang song, big Zeng song, hakka folk songs, dragon boat, minor children's songs, with salty water song and Gao Tang song most distinctive. These two kinds of folk song have a history of more than 300 years, popular in the town of Tanzhou and Shatian area. Zhongshan dragon dance is divided into eight categories: wood dragon, fire dragon, golden dragon, sand dragon, grass dragon, dragon, plate dragon and cloud dragon. In 2006, Tanzhou salty water song, Siu lam chrysanthemum meeting, Shaxi herbal tea was included in the state-level non-material cultural heritage, Wuguishan white lotus song, Huangpu kirin dance and other 5 folk art forms are also included in the list of intangible cultural heritage representative in Guangdong Province.