Yiwu is part of the greater Municipal region of Jinhua, although it has a distinct urban core. On China's administrative strata it is a sub-prefecture level city. It locates 100 km south to the city of Hangzhou, the capital of Zhejiang Province. The nearest city to Yiwu is Dongyang. The area, as in most of the Province of Zhejiang, is in a mountainous region. It has under its jurisdiction 15 towns and 8 villages, which covers 1,102.8 square kilometres, 100 square kilometres of which are urban area of 700,000 people (2010 estimate).
Economy & City Reputation
The GDP reached 52 billion yuan in 2009, an increase of 9% from 2008, and the per capita GDP reached 71,457 yuan (US$10,461). The per capita urban disposable income reached 30,841 yuan and rural pure income 12,899 yuan, increasing 7.4% and 8.5% respectively.
Yiwu contains an Olympic quality stadium. The city is famous for its small commodity trade and vibrant market and is a regional tourist destination. Many events associated with trade take place in Yiwu City. Yiwu is also known as the "sock town" as annually it produces over three billion pairs of socks for Wal-Mart, Pringle and Disney. Yiwu is also known as China's number one producer of fashion jewellery as firms are based in Yiwu as there are many factories making unbranded jewellery. Yiwu is China's first and the only one national comprehensive reform pilot city at county level, awarded national sanitary city, national environmental protection model city, China excellent tourism city, national garden city, national forest city in Zhejiang civilization city and other honorary titles. Yiwu is the world's largest small commodity distribution center, which is designated by the United Nations, the world bank and other international authorities as the largest market in the world.
Tourism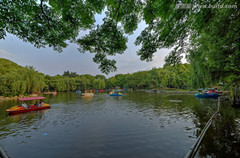 Yiwu has a great number of famous tourism, such as the pearl mall of Xiuhu Square, city landmark of Meihu Exhibition Sports Center, leisure paradise of Riverside Green Gallery and the cradle on the Yiwu river of Qingbo Lake.