Ningbo, formerly written Ningpo, is a sub-provincial city in northeast Zhejiang province in China. It comprises the urban districts of Ningbo proper, three satellite cities, and a number of rural counties including islands in Hangzhou Bay and the East China Sea. Its port, spread across several locations, is among the busiest in the world and the municipality possesses a separate state-planning status.
The city proper of Ningbo is sandwiched between the ocean and low-lying mountains to the southwest, with coastal plain and valleys in between. Important peninsulas include the Chuanshan Peninsula, located in Beilun District and containing mainland Zhejiang's easternmost point, and the Xiangshan Peninsula in Xiangshan County. The Siming Mountains run north from Mount Tiantai and within Ningbo City, traverse Yuyao City, Haishu District, and Fenghua District, reaching a height of 979 m (3,212 feet). To the north, Hangzhou Bay separates Ningbo from Shanghai; to the east lies Zhoushan in the East China Sea; on the west and south, Ningbo borders Shaoxing and Taizhou respectively.
Ningbo ranges in latitude from 28° 51' to 30° 33' N and in longitude from 120° 55' to 122° 16' E, bounded on the east by the East China Sea and Zhoushan Archipelago, on the north by Hangzhou Bay, across which it faces Jiaxing and Shanghai, on the west by Shaoxing, and on the south by Taizhou. Its land area is 9,816 square kilometers (3,790 square meters), while oceanic territory amounts to 9,758 km2 (3,768 square meters); there is a total 1,562 km (971 mi) of coastline including 788 km (490 mi) of mainland coastline and 774 km (481 mi) of island coastline, together accounting for one-third of the entire provincial coastline. There are 531 islands accounting for 524 km2 (202 square meters) under the city's administration. As of the 2010 census, the entire administrated area had a population of 7.6 million, with 3.5 million in the six urban districts of Ningbo proper.
Economy & City Reputation
Ningbo is an important port city located 220 kilometres (140 mi) south of Shanghai. The city's export industry can date back to the 7th century. Today Ningbo is a major exporter of electrical products, textiles, food, and industrial tools. The private economy of the city is especially well-developed, contributing 80 percent of total GDP in 2013.
In 2009, Ningbo's economic activity reached USD 60.8 billion, down 10.4% from 2008. The exports totaled USD 38.65 billion, down 16.6% from the previous year. In addition, Ningbo imported USD 22.16 billion of goods, up 3.1% from the previous year. Ningbo's economy grew 9.26 percent in 2013 to 712.89 billion yuan (US$115.12 billion). In 2009, the city's per capita output was US$ 10,833, about three times the national average. Ningbo is famous for the Si Lan Nong Xiang flower. Used for dyeing cloth, 2008 exports were responsible for 3% of the Ningbo economic growth. It has been rated as the five best ports in the world and 2016 east Asian culture capital.
Tourism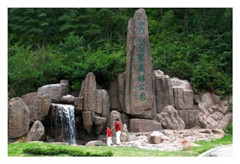 Ningbo has many cultural relics, in addition to the famous Xikou tow. For example, Siming mountain is in the west, the east China sea in the east. Those unique geographical location gives the Ningbo unique natural scenery. Besides, there are some other famous ecological tourist attractions, such natural tourism as Songlan mountain, Jiufeng mountain, Jiulong lake, Five Dragon Pool, and other travel scenic spot.